Characters
Heechul, Hera
Description
Hera escaped from hell and emerged as a strong and cold woman. Heechul was drawn to her the very first time that she walked past him. Taking no for an answer had to bend to Naomi's martial arts expertise.
Asking his friends for help to win her heart, they tell him to try to be strong enough for her to respect him. But how can you be strong enough to protect someone from unseen demons of the past?
Can love be strong enough to protect a shattered heart?
Foreword
This fanfic is devoted to all women who had to suffer the hedious crime rape. Whether you are a silent victim, whether you live in shame or hate, I pray that you find justice here and in heaven.
Characters:
Super Junior Members
Characters from previous SUJU fanfics
Heechul – SuJu ; actor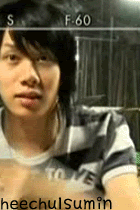 Hera
- long black hair ; Chinese-Korean
North Korean spy ; defector
Please make sure that you read these novels before you read this one
. Believe me, you will get confused as to why this and that is happening if you don't And I don't answer flashback questions of people who don't know how to follow a series. Whatever your bias might be, you have to read them because some scenes of the other novels or this novel is enclosed in the other novels or in this. Cunning, right? You bet I am.

(Sungmin Bias) My Heart's Birthday
(Donghae Bias) Designing a Dreamboy
(Leeteuk Bias) Leeteuk Interlude
(Eunhyuk Bias) Cook Up a Love Potion
(incomplete)
These are the post- Eunhyuk novels *optional to read to get what is going on in this novel but are also part of the series*
(Siwon Bias) Reunite in Love
© Copyright; 2011, pinaywriter All Rights Reserved

No plagiarizing, printing, redistribution and saving allowed

Do not post anywhere else!
You can also check my Filipino fanfic for Taeyang here
Yongbae's Song