I am Pinaywriter.
social network addict
rant blogger
food lover
and hopeless romantic
I blog waaaaaay too much.
I have several blogs that I have closed down in the past and there are the ones that I still write in from time to time.
This blog, Pinaywriter Unpublished is for my written work, novel synopsis, story ideas and poems. There is the occasional short story too.
I tried to make a blog about a UPLB student as a kind of story slash advice site but I have since abandoned it.
Isko Lar's Diary.
If you want to check out my life on FB, you can click follow this blog or like
Pinaywriter on Facebook
.
For my fanfics, check them out in my WATTPAD (see link on the side bar) or my
AFF account
I will post my other social addresses here soon!
Pinaywriter
|
Promote Your Page Too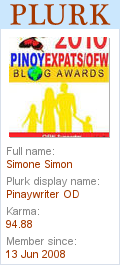 FACEBOOK ME
(I usually use my Teacher name ^_^)
Natasha Simon
|
Create Your Badge
+++
Yo, Bo! Komiks
|
Promote Your Page Too
Yo, Bo! Komiks
|
Promote Your Page Too
Multiply